Seriously, who wouldn't love that precious little face?
I just came across an article with one of the most disgusting, inhumane things you can do to a newborn. This 22-year-old single woman in the province of Zhejiang, China gave birth to her baby boy then flushed him down the toilet because she didn't want him. He was stuck in the pipes and people in the building could hear his cries so they called rescuers to save the baby. Luckily, the 6.2 lb baby boy is safe and healthy, with some minor injuries to his skull. The mother was found and I pray that she is brutally punished for reckless abandonment and attempted murder.

The baby boy is pictured above, safe and in the care of doctors. This was one of the least graphic photos I could find, as the rest of them are mainly of him crying or still stuck in the pipes and it's just too sad for me to post it here, as I'm sure you've probably seen the heartbreaking images elsewhere.
I just heard the news just now of some woman in British Columbia, Canada, who had left her baby in a clothing donations box and was charged and arrested.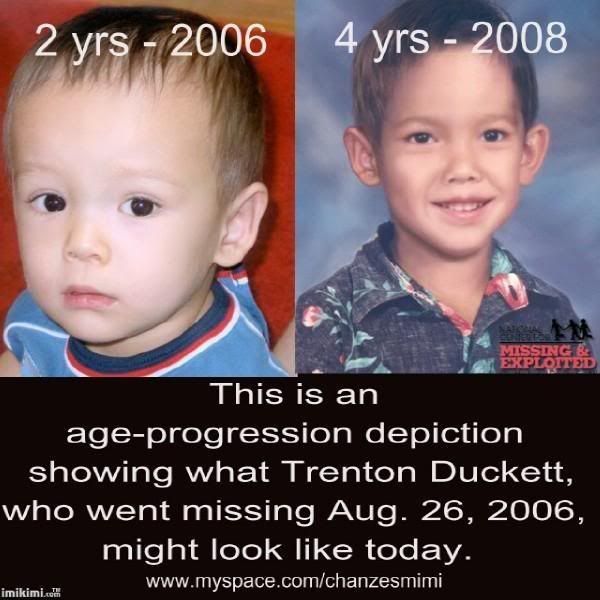 Trenton Duckett, missing since 2006.
I remember back in the winter of 2001 when I was in Winnipeg, my cousins and I were passing by Walmart and they had told me there was a baby found in the dumpster around the back just a week before I was there. I cannot remember if it was found alive or dead, because I've heard one too many stories of babies found frozen to death, and the ones who have barely survived harsh winter conditions.
There was this story back in 2006 that I cannot shake- about this 2 year old boy in Florida named

Trenton Duckett

who went missing after being kidnapped by his mother, Melinda, who later killed herself. He still has not yet been found. The search is still on. I pray that he finds his way safely back home to his father, Joshua, as these past 7 years must have been complete hell for him.
Seriously- who does this to babies? Sick fucks- that's who. There are so many women out there that would give up everything they have and more, just to have the ability to organically have babies of their own, and these disgusting excuses of human beings are ditching their kids just anywhere! Children are innocent- what did they ever do to deserve this punishment- be born? That's not a good reason to mistreat them. Not at all.
Even those kids on those "Teen Mom" shows keep their babies. I'm not saying they're the best examples of parents out there, but at least they were just responsible enough to keep their kids after having sex irresponsibly (or at all). Their babies are at least safe and warm.. traumatized by their parents actions, and will need extensive therapy in the future.. but still safe, fed and warm.
These babies did not choose to be born, and on top of that, did not choose who gives birth to them. I'm sure if they did have the ability to choose, they'd pick those individuals/couples who actually want kids of their own and that would treat them with the tender, loving care babies need and deserve, rather than these unfit, fertile fucks who- somehow, for some godforsaken reason- have the abilities to naturally give birth to beautiful, healthy babies.
If you can't afford to have a baby, or you don't want one and you're due, you can give them up for adoption to folks who desperately want to be parents and have the means to do so! They would gladly take your baby off your hands!
Remember:
"Adoption is an option"
.
Also, take every Amber Alert seriously, because somewhere, the missing person has family members that are desperate to find their loved ones. I'm sure you'd want the same help in return if, God forbid, it happened to you or someone you know.
@JerZGrlinCanada
Share this article!.