There are people out there that can touch your soul with their talent and energy, without ever having met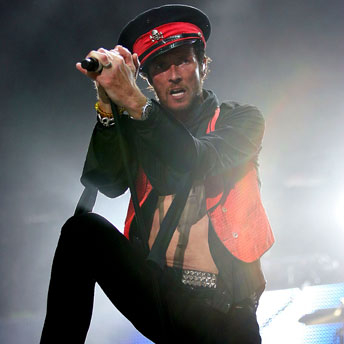 R.I.P. Scott Weiland: October 27, 1967- December 3, 2015.
them. For me, Scott Weiland, who was best known as the frontman of Stone Temple Pilots and Velvet Revolver, was one of those forces.
I never met him, but even just seeing him play live at Edgefest 2008 when Stone Temple Pilots dropped into Toronto on thier reunion tour, my soul was moved, and my spirits, elevated. Waiting 30 minutes longer in the rain that day for the band to take the stage was so worth it. I remember seeing Scott Weiland's silhouette on the side stage, wearing this wide-brimmed hat, while he was talking on the phone, and I knew it was him. It was an exciting moment. The rain stopped, and finally seeing him slither onto the stage was surreal. They opened their set with Big Empty, which, you know, is a slow song. I was in the pit towards the front and center, and got nearly crushed to death, being so small compared to everyone else around me. Sprained my ankle in the process, and security had to pull me out of the pit but again- worth it. I remember standing on the other side of the barricades, looking up to my left for a few seconds and saw Scott Weiland on stage about 15 feet away from me before security pointed me in the direction to walk and get back into the crowd. What other bands can you name that could get a pit going opening with a slow song?? I cannot name many, but it wasn't shocking at all that Stone Temple Pilots did exactly that.
The clippings I kept from the April 2005 issue of Esquire.
Looking further back, I remember being 20 years old, sitting in the waiting area at Technicolor Studios in Toronto, while waiting for the guy I was dating, to finish color-correcting a music video he shot, and finding the April 2005 issue of Esquire sitting on the coffee table, with Benicio Del Toro on the cover. I picked it up, and looked down at the bottom right-hand side of the cover that said 'My Addiction: A Love Story by Scott Weiland', so I immediately turned to the article. I must have read it 3 times in one sitting because it was so honest, so raw, so compelling. He had approached Esquire to share his story, and it was all written in his own words, from the heart. Reading it, you felt closer to him as a fan and as a reader. When I read that he lived in Huntington Beach, California at a point, it drew me in even more, as I just moved back to Canada from there about 2 months earlier. I was also struggling with my own vices at the time, but nothing compared to what he was fighting. I went out and bought myself my own copy of the magazine and kept the magazine clippings to this day.
Later that year, I did my first interviews with local bands who had upcoming shows for a local tv station I blogged for at the time. To this day, it has been a secret goal of mine to get that much depth and rawness out of an artist when interviewing them, asking them about their stories. I know he was already a well-known rock star, and I mainly interview up-and-coming bands, so it's a different ballgame, but I always hope the artist would be comfortable enough to be candid enough to draw the readers in like they are reading an unforgettable novel. I know many artists want to keep a certain level of anonymity, and just focus on talking about their projects, but when you hear the music while knowing one's story, there is something that really connects you more to the artist and the music, especially if they have written their own music. That said, I would encourage more bands to share their journey, as I have noticed the bands who connect with their fans, either via social media, at their shows, or otherwise, have a more dedicated following.
Scott Weiland epitomized the term
rock star
for me, and I am sure for many others. He was my reason for being drawn to guys who wore black eyeliner, or who allowed me to put black eyeliner on them. He had the movie-star looks, that of a young Clint Eastwood, the raw talent, a distinctive singing voice, the moves, the stage presence, effortlessly dressed bad-boy-chic even when wearing a suit, and the survival story with his demons that, when finally shared, have helped many come out of their own dark places.
I remember scrolling through
Instagram
last night when, with a heavy heart, I found out that this legend had died in his sleep. I was checking out other people's posts about the singer, and found a story written by photographer
@JeremySaffer
, attached to photos he took of Velvet Revolver that brought me to tears. Guitarist, Slash, saw him and recognized him from other shows and started to give him pointers on where to position himself to get great shots during guitar solos. Scott Weiland walked by, Slash stopped him to introduce the young photographer. Scott was immediately super nice and told him "First song, I'm coming right for your lens and gonna do a bunch of poses. I know you only get three songs (to take photos before being moved back into the crowd), but I'll make sure you get good shots, so be ready!" He made good with his promises.
My favorite photo of Scott Weiland. Unsure of who shot it.
Reading that he was down-to-earth enough to be nice to a photographer, a fan, or anyone who was there to support his work in general, shows what a good person he was. Slash was incredible, as well, for approaching this photographer and immediately giving him pointers like that. Reading how these household names are kind to others, kind to other people, really cancels out my experiences being snubbed by less popular musicians I have interviewed in the past, and restores my faith in the industry that there are still good people. I have been lucky enough to meet some solid people in the industry, regardless of their level of success, but reading this story, among others, really sheds light on the fact people are assholes to others for no reason, when they could just be kind and connect with you like normal human beings. No one is too good to not be nice to others. So thank you, Jeremy Saffer for sharing your beautiful, inspiring story!
I am probably gonna get flack for writing this, as I know there are plenty of good people, artists who struggled with drug addictions and kicked the habits, and good musicians out there to write about who are still alive, but Scott Weiland was THE rock star to me. Hearing his music got me through rough times, as well as they take me back to some of the best days of my life (along with Breaking Benjamin, Deftones, Sevendust, Nonpoint, and Alterbridge). So needless to say, finding out about his death was absolutely heartbreaking.
Heaven gained another angel, so the music in Heaven must sound amazing. Rest in Paradise, Scott Weiland. Your legacy will live on forever.
Share this article!.